Visitors and residents of the Empire State will be able to enjoy the fruits of the sports gambling legislation changes, started by the last year's Supreme Court's ruling. Resorts World Catskills is among four NY state casinos slated to open a sportsbook.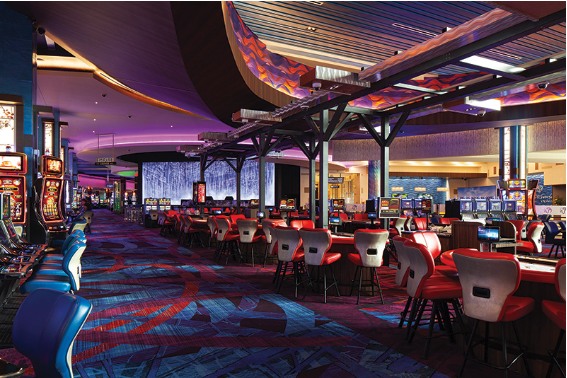 Sports betting now legal in NY state
Last year, the Supreme Court ruling struck down a monopoly held by Nevada on sports betting. Since then, a growing number of states have started a process of legalizing and regulating sports gambling.
In New York, it had started even earlier, in 2013, when voters gave a "yes" to sports betting in a state referendum. But it took roughly six years to finish the process. On June 10, 2019, New York State Gaming Commission voted to approve regulations of legal sports betting in brick-and-mortar casinos. There are four casinos that can apply now for permission to open their sportsbook.
In this article, we will focus on Resorts World Catskills Casino & Resort, a Vegas-style casino, and its sportsbook, Sportbook 360, situated in a fancy hotel with a spa. It's located less than a hundred miles from the New York City, in Monticello, a village recently revived by growing tourist interest, with the casino playing no small role in its revival.
The unique location of Resorts World Catskills Sportsbook
Catskills Mountains, nicknamed in the past Borscht Belt, after a beetroot soup associated with Jewish immigrants from Eastern Europe, used to be a known resort for the New York Jewish community. It was no small deal – the plot of Dirty Dancing takes place nowhere else but in a fancy Catskills Resort!
Although its prime time has long passed, the recent efforts to turn it into an important gambling location might just put the place back on the map. Also, the fact that Resorts World Catskills is the closest to the New York City out of the four casinos with permits to open sportsbook, should help. Finally, gamers can enjoy the beautiful nature of the surrounding Catskills mountains.
The Resorts World Catskills Casino
The Resorts World Catskills Casino opened in February 2018. Its owner Empire Resorts reported nearly $140 million in losses last year. The opening of the Sportsbook and the possibility of a mobile app are giving hope for the casino's second chance.
The place is already quite impressive. There are 150 table games, 2150 gaming machines, nearly 20 poker tables, all on 100,000 square feet. It operates 24/7, features seven different restaurants and the Crystal Life Spa. The casino is located in the 18-story hotel. What's more, a golf course and an indoor water park are under construction!
The Resorts World Catskills Sportsbook
bet365 is responsible for developing Resorts World Catskills sportsbook, both in the casino and online, along with IGT and Betgenius. The British company is already serving more than 35 million customers all over the world and has more than once been ranked as the number one online gaming company. It seems the Resorts World Catskills Sportsbook is in good hands.
Resorts World Catskills' new sportsbook, Sportsbook 360, features 6,000 sq ft of sports betting with a central bar. With a seating capacity of over 100, you can be sure to always have space to watch the game day action and place your bets at any of the 14 betting kiosks and/or counter.
Of course, gamers can be rest assured for a number of flat-screen TVs with games running live. The major sports are open for placing bets: basketball, football, baseball, and many others. This specifically includes the major US leagues: NFL, NBA, MLB.
Also, there is nothing to indicate that all types of traditional bets won't be available. So you can safely expect point spread, money line, totals, partial game line, parlay, teasers and so on.
Resorts World Catskills Sportsbook Mobile App
The New York State legislature has been working intensely on passing laws allowing for mobile sports betting. But it is the governor who has the last word on the issue and so far he has been in no rush to decide on mobile sports betting. Gamers might have to wait another year or so till they can enjoy the comforts of placing bets from their phones or laptops. However, the NY State casinos are preparing their brick-and-mortar sports betting operations, do hope for the opportunity to take it online.
In the case of Resorts World Catskills Sportsbook, we can try to predict a few things based on their partnership with bet365. Resorts World Catskills Sportsbook mobile app can be expected to be available both for Android and iOS. It is quite possible it will follow the slick, elegant and clear look of the bet365 app. We can hope it will also enjoy high ratings, multiple live-streaming options, a wide variety of sports and bet types adjusted to the American audience.