The New York Yankees are perhaps one of the most supported professional teams in the state of New York. Competing in the American League East Division of the MLB, the Yankees have attracted attention from baseball fans all over the country. This team has also been one of the successful franchises in the league, claiming 18 division titles, 40 American League pennants, and 27 World Series championships.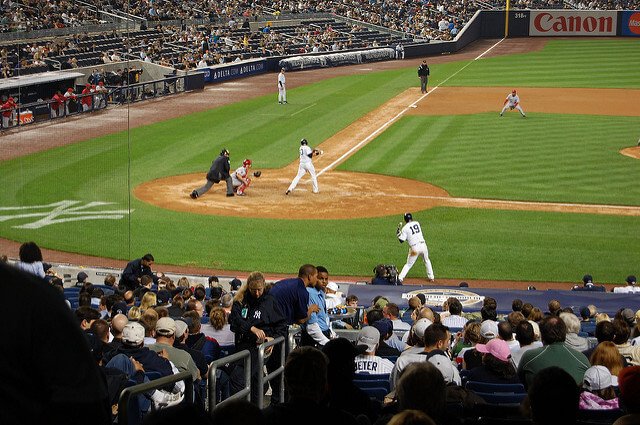 These stats are quite impressive and proves just how successful the team has been over the years. They have won more titles than any other team in the MLB.
Many New Yorkers support their local teams by going to games and buying merchandise, but there is another way for fans to get in on the Yankees action throughout the season. With sports betting, fans can place wagers at sportsbooks as well as online and with these bets, they can generate some amazing profits.
Baseball Betting in New York
Unfortunately, even though online betting has become an accepted activity, it is not legal in the state of NY, so there are no online bookies or even land sportsbooks that support MLB bets at this time. The managers of the Yankees are actually concerned about betting becoming legal in the state as they fear it will have an effect on the integrity of baseball.
MLB teams, as well as other pro sports team in the state, are lobbying the lawmakers to get a piece of the pie and get some of the revenue generated should sports betting become legal.
Types of Baseball Bets
Even though NY state does not offer online betting sites, there are options for those looking to engage in baseball bets. One option is to visit nearby New Jersey, which does offer land based and online sports betting. Another option would be for bettors to access online sportsbooks operated in other countries to place secure bets.
No matter how one chooses to start wagering on the Yankees, they will find there are many betting options that will be supported. Money Lines are the easiest bets to place and they are one of the more popular choices for new bettors. These are simple bets where one will choose who will win the game. Sites and betting venues will also support Over/Under bets.
With these, the bookmaker will set a total for each game that is played and one will be wagering on if the total number of scored runs are over or under the predicted amount.
A popular alternative to Money Line bets is a Run Line bet. Here, the bettor will place a wager on a side that has a set point spread. Instead of just betting on the favorite to win, they can instead bet -1.5, which means the team must win by two runs. These bets are easy to place and they can generate some great returns.
Bettors should know that Run Lines, like Under/Over bets are only valid if the baseball game is played for the full nine innings.
There are many other types of baseball bets that can be enjoyed, such a Point Spreads, Parlays, Propositions, Grand Salamis, and First Five Innings. With so many options, anyone who loves the Yankees and is looking to make some money by placing bets will find this team to perform well overall, leading to the chance to cash in on some great payouts when sports wagers are placed.
Baseball betting has become a top pastime for many in NY and with the Yankees being League favorite, there are endless ways to win and to enjoy the season. Bets do not have to be placed on regular season games as one can also wager on pre-season activities, post-season games and the World Series.